Real Estate Agent Website Solutions
We have three basic kinds of website designs for real estate agents, described in detail on the agent websites page. There are inexpensive templates that you can develop over time as your budget allows, or you can go the fully-custom route. We also offer a highly popular option called the "Limited Edition Custom" that gives you the best of both worlds at a premium price point. All three of these options are built on our high-end platform and come with a solid suite of backend technologies.
---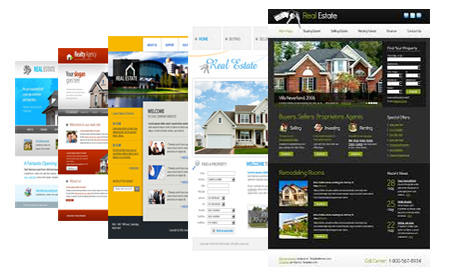 Real Estate Website
We have entry level real estate websites that you can expand-on, or you can order the highest-end custom website design in the real estate industry. Or there's our Limited Edition Custom option, giving you a custom-caliber website with proven conversion at half the cost. You'll love how all of our websites, from the simplest to the biggest, include our proprietary lead management and content management technologies.
We're a full-service company, which means we offer everything you need without having to contract anything out, and your designer talks to your programmer every day, in person.
---
Internet Marketing
The best news is that SEO-friendliness is already built-in to our platform. That means you're already ahead of the game in making sure your website is visible in the natural search, even without investing your time and money into dedicated search engine optimization for your site.
But if you work in a competitive market, you know that effective SEO for your real estate site is something that takes a serious, ongoing investment of time or money. And even if you have lots of time, there is so much mis-information out there to lead your efforts in the wrong direction. Don't waste your time or money by trying this stuff yourself — if you do it wrong, you are also missing out on all the traffic and leads you would have got if it were done right the first time — by an experienced, specialized firm.